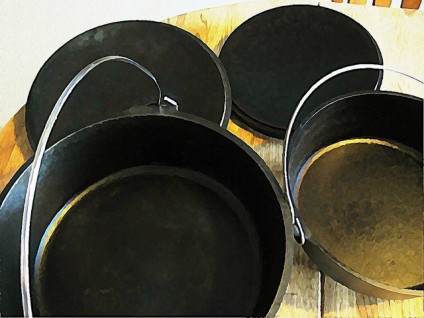 Cast iron has been used for centuries upon centuries; it has been found in tools for agriculture in passed civilization, weapons, and yes —  it has been used as cookware as well. To understand why you should cook in cast iron cookware, you should probably understand what cast iron is made of.
Cast iron cookware is mostly made of iron, manganese, silicon, and phosphorus. So when you cook your favorite meal, you release a healthy amount of these particles into your food.
Iron Potency
The most obvious benefit is iron. Iron makes up 70% of hemoglobin, or red blood cells. Red blood cells are responsible for the transportation of oxygen to all the organs of your body, among other things. The fact that 70% of your red blood cells are made of iron also means that the sheer production of your blood depends on the iron that you consume.
Help Your Bones With Manganese
Manganese is essential for the proper production of bone material and helps you regulate the sugar levels in your blood. So if you want to avoid the adverse affects of eating a sugary dessert, make sure you cook the dish in iron cookware.
Any free radicals inside your body are also eliminated. Why should you worry about that? Well, free radicals are responsible for damaging cells and may cause cancer as well. If you need another reason to cook in iron cookware, does preventing cancer help?
Silicone May Keep You Youthful
Something quite interesting is hidden within iron cookware, and that is silicon. Silicon, among other things, is responsible for some of the things people value the most. What things do you wonder? It keeps your skin youthful and helps to emit a healthy glow. Silicon is also associated with the healthy growth of your hair and nails.
Stay Energetic, Clean, and Mindful With Cast Iron
Cooking with cast iron is essential for another reason: Cast iron cookware enhances your body's cognitive functions.
But your mind is not the only thing that will be enhanced; your kidneys are also regulated. That means that you will be able to pass waste out of your body as you should. If your waste is not properly disposed of, there could be undesirable results, such as these:
Tiredness
Grumpiness
Eczema
Acne
Candida
These are just a few of the results, but there could be others if you are not providing your body with everything it needs.
One more cherry on top is the fact that you will be given more energy. Cooking in cast iron cookware gives energy to your muscles and may even improve sexual performance (that does include both men and women).
But you should also know how to take care of your cast iron cookware to keep the benefits coming.
Cast Iron Care: A Non-Stick Adventure
To properly care for your cast iron cookware, you must season it. To do this, rub oil on the outside of your cookware and add a light layer of salt; put it in a hot stove until the oil smokes off.
To season the inside of your pot or skillet, you should mix salt and oil in a bowl. Get a napkin or a small cloth, and dip it in the bowl; then lightly oil the inside of the cast iron until it is smooth. You do not need to burn the oil off in this instance; keeping the inside lightly oiled will keep your food from sticking.
By doing this simple procedure, you will ensure that your skillet or pot remains in good condition. You will also make sure that it remains nonstick, giving you an opportunity to use less oil, which can be expensive.
So how important is it that you consider taking out that heavy, naturally-made cast iron cookware? It seems that it is more important than one could have imagined, right?
Of course, if you have certain conditions that iron may exacerbate, you want to proceed with caution.
Ruben