I don't have a Gift of giving. I'm not really nice. Don't believe giving Spiritual things is a "personal conviction" or is cool or unique. At Tp, we offer prayer and all Spiritual offers freely because it's Just, and they are not ours to sell. By grace we have received, through grace we give of ourselves and resources (Matthew 10:8). It is not our place to put up walls and try to block Godly help because of something as trivial as money. This belief aligns with the Bible; it resonates with my spirit and my Faith in Yeshua.
I also believe a ministry is not a business. It should not sell things or yoke itself with the government (2 Corinthians 6:14); it is a branch of Christ's Church and should be linked to a free church. This is why you don't see business ads on this site and one reason we have a Free Shop instead of just a regular shop.
We all have weaknesses and strengths and should be evolving daily. One thing that helps me on my journey is I'm a thinker, and God has given me the Gift to discern man-made blurry lines (when he allows). I think with my mind and discern with my spirit and Bible (2 Timothy 3:16); we should not just follow the crowd (Exodus 23:2). As I always advise, we must ask God if what we are doing is right. Then, make sure it is Him talking. There's you, the devil, other influences, and the Holy Spirit. We should seek the advice of our Spiritual leaders and mentors, too. (Proverbs 11:14) (Proverbs 12:15)
It is also right to support our home church, fellow Christians, and other organizations doing God's work. That aligns with the Bible as well. We are all parts of Christ's body and should assist each other. (1 Corinthians 12:27) What God has given us will be used for Him when we freely give for the benefit of others. Help is especially needed for those who have a calling to work in ministry full time (though, technically, we are all in full time ministry) as well as struggling ministries. Most people have needs that need to be met as mentioned in my Selling Jesus piece.
I am content and depend on God for my needs. But I know how it feels to want to give more time to the ministries one is part of but can't because of those basic necessities, constantly pulled back and forth (though I'm learning how to live well on little). I know how it feels to wear several different hats and not get physical help from people who have the true gift or skill (though God fills in the gaps).
That's one reason why, if Christians benefit from a ministry, they should give back and share in some way if a ministry needs help. (1 Timothy 6:18-19).

Reasons People opt out of Freely Giving
Some think it is a personal choice. We can sell eternal creations. Besides, people sell God's earthly creations like the food we grow, natural materials, skills, etc and may even witness while working. Should people stop sharing their faith on their secular job to not blend the two? Of course, not. You should share as the Holy Spirit leads. Our lives are a ministry as mentioned above. But there is a distinction. At your business or job you are being paid to provide a service or product, not to witness or help fellow Christians. Are you charging people for Spiritual Insight? No, unless you have turned God into a governmental business, which doesn't make sense as they are two separate entities.
Other people sell because they have expenses that need to be taken care of. Is that a lack of faith that God can provide? And what are a few ways to get help when in need? Hmm. Let's see… get help from people in your ministry's home church, or perhaps go to several churches; the individuals within the church may donate to your cause; maybe you can do a Kickstarter or Indiegogo fundraiser. Just work and donate your own money along with a few like-minded friends or family members. Try to blend a few of these suggestions. After a project is completed or ministry has begun, one can accept free-will donations from people.
In the Bible, we see many people sold God-given skills, their harvest, and many had businesses. It's translated that Jesus was some type of builder in his younger years, which is seen as a symbol of his role in the Church, and Paul was a tent maker while ministering in Corinth, but you won't find instances where Christians literally sold Spiritual Food, etc to prevent others from getting it. Workers did accept honorariums and had their needs provided for while ministering. Understand that in those days churches provided for elders/pastors (1 Tim 5:17-18), field evangelists (Phil 4:15)(1 Corinthians 9:14), church family in need (Acts 2:42-45)(1 Tim 5:3-16), a ministering guest (3 John 5-8), struggling churches (Acts 11:27-30) (1 Corinthians 16:1-9) (2 Corinthians 8) and, of course, poor saints. (2 Corinthians 8,9)
Slowly, more people are growing in this area of giving and beginning to understand that offering Spiritual things should be in the Church's foundation. People are joining (or at least partly joining) the movement and are taking a stand with this "antiquated" belief, but it seems some are running into a few roadblocks.
Why are Freely Giving Ministries Struggling?
Some freely given ministries, artists, healers, etc, are struggling, feeling the pressure to compromise, which some have done. But why is this happening? Well, one might say they should just do what they can. Maybe they are not planning things out and are jumping ahead of themselves. Some may wonder if these people are frugal and good stewards of what they have. Maybe they should be more creative with their efforts. Hmm… These could be valid points.
Another reason these types of ministries may be struggling is because they just need more support. But some Christians, especially U.S. Americans, are dealing with a hard-to-break issue, which is worldly conditioning. That stronghold might unconsciously guide their ideals and actions, and they just don't know it.
Has This Capitalistic Society Hijacked the Value of Free?
As you visit websites, you probably read their articles and may even stumble upon a free offer. One can read available content, take any free offers, and the transaction is done. People don't usually think to "leave a donation" for a business. Why should they? If they like what they see, they will just buy something the business offers. Besides, many websites make money off your visit through ads or affiliate marketing anyway.
But what happens when people stumble upon a Christian ministry that offers free content and other creations? Of course, anyone, regardless of their financial situation, can partake of the offerings. A portion of people help so the ministry can keep going, but others don't assist for various reasons. One group doesn't help because they see this opportunity as a take-all-you-can as they would a business. They might think the organization is doing fine, or they must not be offering anything of value or they'd surely put a price on it. Perhaps these people think Christian non profit peeps should sell things, like subscriptions or merchandise, if they want help, which is an oxymoron.
Many people don't value the free things they get. They often put these things aside and take the things they actually pay for seriously. Why? Because society tells people what is valuable. For the most part, it is the things they have to pay or work for. But ministry is not a secular business for some people. Some of the Christian organizations and people that provide free articles, help, give of their time and things do this because it's part of what they do; it involves that whole serving Christ thing. Their value does not depend on a price tag; it is in Christ. Life-giving creations and offers are priceless. More valuable than diamonds and gold and earthly precious stones.
Ponder this story based on true events.
There was a man who used to provide Biblical counsel freely. He felt that was the right thing to do. Sadly, those who sought his wisdom often flaked on him; most people didn't think to help or ask if he needed anything. Over time, he grew frustrated and his soul weary. He did not want to deal with this problem or at least wanted to decrease it. He came up with a solution. He started charging for his time and noticed that people changed. People were more responsible. More people showed up on time and were ready to invest themselves in the session they payed for. "Business" was booming, and he can now live comfortably off his "mandatory" donations.
This shows that people are heavily influenced by the world in which they live. Perhaps these people devalued free worldly things, and this spilled over into their Spiritual life. Ironically, they devalued something that is truly Valuable. This caused a man with a Gift of counsel to limit his reach and put a price on help. Even if he decided to offer his counseling to the poor freely, he would probably make those people feel as if they could not afford God's help, which is not right. The deceitful, positive outcome validated his decision, and he now decided that was the right thing to do. He probably encouraged others to do the same. As you can see, worldly influence can have a domino effect in the Church and cause people to fall into human reasoning, instead of Spiritual reasoning. But this is not the only thing to worry about.
First, Show me the Money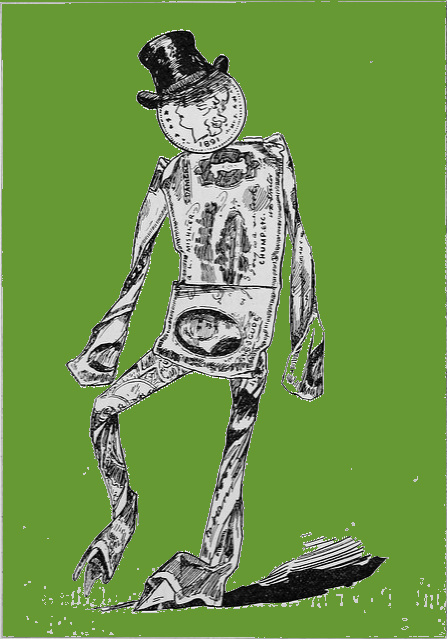 Some people won't labor in struggling ministries because they are struggling themselves. This is understandable. Many need financial security yet desire to work in ministry. These people look for a ministry that can satisfy both desires, which could be an organization that does not desperately need them. This is why it is wise to make sure God is leading your path, not your financial situation.
Again, ministries are not businesses. Should they promise to give a set amount of anything? Some may have an idea of what is usually collected but don't know what needs will need to be met from month to month. The amount or what someone gets may vary. Even so, some Freely Giving ministries don't have much to give anyway. Maybe everyone should just stop working and quit. No, no, that's not right. Like other ministries in the same boat, they have outside jobs or businesses to provide for the necessities and not burden the organization. Of course, you probably know some Christians who do not take anything from their church or ministry, even when it can provide. These people decide to live off their outside work exclusively so the ministry can put the money to use in other ways like helping the poor.
If someone really wants to work in or assist a ministry, they wouldn't let money stop them, even if they could only collaborate on one project or every now and then.
Worldly conditioning has changed modern-day Christians' views on ministry work. People demand a certain amount before they share God's Spiritual gifts or natural skills, instead of just ministering and allowing a ministry to give what they can when they can. They treat helping Christ like a secular job, which is not the right mindset.
So how can we reverse this conditioning? By letting go and getting back to the basics, Spiritually. Start with this: If you benefit from a ministry or see one that needs assistance, don't just pray for them and lurk in the background. They are a part of your eternal family; get involved, and assist. Take fellow Christians' time and work seriously. Don't abuse them. Just because someone offers Spiritual meetings or products freely doesn't mean his or her time is not valuable. If you have an offering, financial or otherwise, offer it. If it's a session, prepare your heart. Show up ready to see what lessons God has for you.
Shalom,