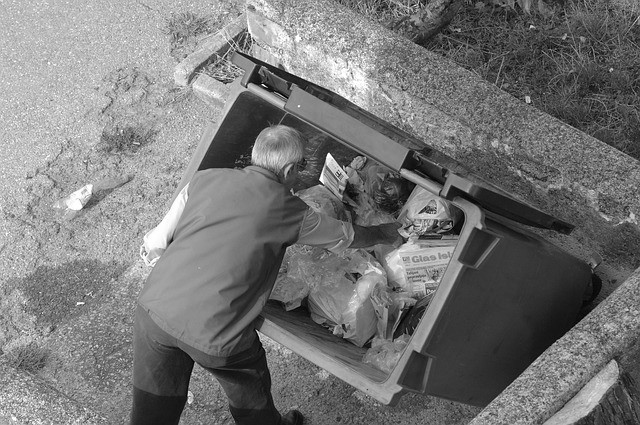 There are many things you can do with the items you throw away, and I'll share a few things you can do with your leftover fruit scraps. But first, let me dig up a few deep-rooted memories that helped mold me into this anti-waste proselytizer.
My "Frugal" Background
Ah, my father has given my family many stories to tell. I remember walking into my parents' house and finding my mom laughing (uncontrollably) on the phone. She–to no surprise–was talking to a lady from the phone company, contesting a bill. My father noticed that the bill was 3 cents higher than it should be. My mother and the phone company rep were laughing about other things my dad had done to save money.
Some of those things include:
Celebrating 1 annual birthday (yes, 1 cake a year for all six of our birthdays)
Christmas gifts were usually things we already owned. Oh, and boxes were reused. Of course the tree was reused too.
And sometimes, gifts were just a hug or kind words, but don't think "ahh." He did that because he didn't want to spend money.
Sometimes, a treat was a tortilla cooked in animal fat, with a sprinkle of salt.
He started using quarter-shaped Asian candies as quarters for candy machines because you can get hundreds of them for 2 dollars (Yes, I know that was wrong).
This does not cover all the things my dad used to do, but it should give you an idea of where I come from. I am not as cheap as my father, but his lessons have still helped me take care of my little family. I have been perfecting my dad's resourcefulness and have discovered ways to not be wasteful.
Trash? I Think Not.
You may know that you can use a composting bin for your biodegradable trash. But before you compost your fruit scraps, you can get more use out of them.
Banana Peels
There is so much to do with a banana peel that is hard to know where to start. For one, did you know that the pulp in the banana peel can kill warts in 1 to 12 weeks? All you have to do is place a piece of the banana peel on the wart with some tape, like a natural band-aid.
The pulp of the banana peel can also be rubbed on your teeth to whiten them. The minerals in the peel, like potassium and manganese help remineralize your teeth.
You can rub the outer layer of the peel on insect bites and poison ivy to reduce inflammation and itchiness. The outer layer is also good for acne and acne prevention.
Boiling the peel can help extract lutein, which helps prevent free-radical damage to your eyes. Just drink the water as you would tea.
That same boiled banana water can also be a wonderful skin tonic, as it contains several minerals and vitamins that your body needs. Remember lutein? This will help protect your skin from sun damage (which shouldn't happen if you are eating right). Sun damage can cause premature aging or saggy skin.
Eating the banana peel can help fight hemorrhoids, depression, and there are a host of other reasons why you should eat them. You can process (or cut up) the peels, and add them to shakes, a dip, cakes, etc.
Watermelon Rinds
Watermelon rinds contain some healthy ingredients, like vitamin C. But the star attraction is the citrulline content. The high concentration of this ingredient makes the watermelon rind an important addition to your diet, especially for the following reasons:
Protects your skin from free-radical damage (anti-aging, protects sight, cellular degeneration in general)
Improves heart and circulatory health
Strengthens your immune system
Helps with weight loss
Restores healthy erections
Helps with liver disease
May help fight parkinson's disease
You can just juice the rind, or cut it small enough to eat. You can also add it to stews, or you can simply culture the watermelon rind.
Steps to culture:
Remove the pink flesh completely off of your rind. Peel the green outer-layer of the rind.
Cut the rind into 1-inch squares or smaller.
Prepare your brine by adding 1 to 3 tablespoons of sea salt to 1 quart of raw alkaline water.
Place your rind squares in a sterilized mason jar, and fill the jar up with the brine.
Make sure the squares are completely covered in the brine. You can use a small, heavy sterilized glass bottle or a non-toxic stone or rock to keep the rinds submerged.
You can cover it with an organic cheesecloth. Or, you can use a lid, but you will need to let some pressure out daily.
Let it culture in temperatures from 60 to 70 degrees for at least 4 weeks before putting it in you fridge. Enjoy.
Cantaloupe rind and pumpkin rind can also be fermented; in fact, you should probably see any fruit leftover as something you can use.
A Few More Helpful Fruit Scraps
Studies show that several alpha hydroxy acids help reverse and prevent acne. So what does that mean? Well, you can find these acids in the crown of a strawberry, pineapple pits, papaya skins, lemon peels, apple pits & grapefruit peels (as well as the whole fruit).
Grind these leftovers up in your food processor–together or apart, depending on when you eat them, and apply it to your face. Alpha hydroxy acid is a great exfoliator and moisturizer, which should remove any dirt, leaving your skin radiant.
This fruit mixture does not last long–even in the fridge–so use it quickly.
The truth is there is a lot of food on this earth that we are unaware of because of our modern diet. While visiting my grandparents in Mexico, they introduced me to fried grasshoppers; I ate them and they were pretty good. And from what I've learned, you can eat most bugs as long as they are black, green, brown, and do not have a foul odor. Oh, just so you know, bugs are filled with more vitamins and protein than the meat we usually consume like beef or chicken. Some people might think 'yuck.' Well, maybe, but they are filled with yucky goodness.
Of course, to receive all the health benefits you can, your food must come from pure sources. So make sure your food does not contain toxins and harmful chemicals. And opt for healthier options.
Try to use or eat every single thing because, as my father use to say: "No Estoy Hecho De Dinero." Till next time, T-Phixians.
-Ruben