Job 4:19
How much less in them that dwell in houses of clay, whose foundation is in the dust, which are crushed before the moth?

As humans, we are eternal souls that dwell in houses of clay (our physical bodies). At first, this may seem like a strange thought to behold. But think about it. When you say, "My body, or my mind," who is the "my?" It is your soul! The being driving this fleshly machinery.
Fermentation is such a picture of those who have been born again spiritually. Traditionally, earthen vessels were used to house food and beverage as they underwent their transformation from something which was dying to something which had been given a second chance: life and preservation.
Not only is this food/beverage living and preserved, it is far more beneficial than it was before! What a beautiful example of what happens to our dying and rotting flesh when the Holy Spirit enters the picture:
Romans 8:11
But if the Spirit of him that raised up Jesus from the dead dwell in you, he that raised up Christ from the dead shall also quicken your mortal bodies by his Spirit that dwelleth in you.
Ancient peoples viewed the art of fermentation as miraculous and sacred. Traditionally, women were the keepers of this sacred knowledge (a position that was valued by the whole community), and tended to their brews with intention and prayer. According to the ancients, the moment the fermenting food or beverage began to bubble and come alive was pivotal, its source a life spark from the sacred realm. This sacred food and drink was used for healing, ceremony, creativity, and even relief from feelings of depression and anxiety.
A beautiful example is one of the most ancient fermented substances- wine. We see it referenced all throughout the Scriptures- verses describing it, celebrating it, and warnings as well. But the wine described in the Bible was a much different beverage than you find on the shelves of most supermarkets today. Today's wine is made with pesticide-ridden grapes, isolated yeasts, and preserved with unhealthful sulfites. I could not in good conscience call it a healthful beverage like it was meant to be.
1 Timothy 5:23
Drink no longer water, but use a little wine for thy stomach's sake and thine often infirmities.
As you can see, wine is meant to be a gift from God, and a healthful tonic when used correctly.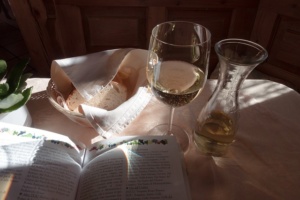 Psalm 104:15
And wine that maketh glad the heart of man, and oil to make his face to shine, and bread which strengthens man's heart.
Proverbs 31:6
Give strong drink unto him that is ready to perish, and wine unto those that be of heavy hearts.
This is not to say you should medicate with wine to deal with issues like depression. Whereas wine provides a fleeting escape, only God has the power to change your situation, fill you with hope, and lead you out of life's valleys.
The Bible also says we should not become drunk with wine, or drink wine in the company of those who are offended by it (Ephesians 5:18, Romans 14:21). If you want to enjoy these gifts, you should do so respectfully.
So we see wine is a gift from God, but what does that have to do with fermentation and how it was perceived by ancient peoples versus how it is perceived today? Well, everything actually. Without the right perspective, we tend to take things for granted and abuse them. Let me explain.
In our modern scientific era, it is all too easy to attribute transformations we see in nature to mere scientific processes. In the case of wine, we know that yeasts (invisible to the naked eye) consume sugars and produce alcohol and carbon dioxide (bubbles). That description doesn't speak to an innate design, a Giver of gifts, or a blessing.
When I contrast how the ancients viewed fermentation as something mysterious and miraculous with how modern science describes the process, I find myself resonating more with the ancient viewpoint. You see, science merely describes things that happen (like leaves changing color in Autumn, or a rainbow) in terms man can understand, so that man does not have to acknowledge the Artist behind these awe-inspiring displays. In turn, miracles are reduced to nothing more than man's theories. Things that once seemed wondrous lose their magic. (No wonder adults are so boring!)
But the truth is, God's creation is miraculous and awe-inspiring, and it is this belief that cultivates a heart of thanksgiving and joy. Scientific theories, more often than not, contain holes. If you look through the hole, you'll see a miracle- its source a greater, infinite Intelligence that can never be completely understood by man.
Romans 1:20
For the invisible things of him from the creation of the world are clearly seen, being understood by the things that are made, even his eternal power and Godhead; so that they are without excuse:
I'm not saying the scientific explanation of fermentation is wrong, it's just not all right. In your studies and research, don't neglect to acknowledge the Designer of these intelligent processes. And don't be so quick to dismiss ancient viewpoints as primitive, for there is nothing new under the sun (Ecclesiastes 1:9).
It is important to recognize the Giver, and the gift, to enjoy things for what they are, and appreciate the mysterious symbols contained therein.
Some ancient peoples were misled as to the source of the miracle of fermentation, but we can be sure that it was given by the one, true, living God- the One who compared the Kingdom of Heaven to the yeast used in bread making in Matthew 13:33-35, and the Jesus who referenced the process of making wine when He said,
Matthew 9:17
Neither do men put new wine into old bottles: else the bottles break, and the wine runneth out, and the bottles perish: but they put new wine into new bottles, and both are preserved.
In fact, Jesus' first earthly miracle was turning water into wine (John 2:1-11). What a beautiful example of His transforming power, which brings me back to my original point: the Holy Spirit has the power to quicken us and transform us into totally new creatures.
2 Corinthians 5:17
Therefore if any man be in Christ, he is a new creature: old things are passed away; behold, all things are become new.
And don't be discouraged. Just like fine wine, time is the key ingredient in becoming more like Christ. Allow His influence to continually transform and develop you.
Whereas once we were dying and destined to rot, His saving grace can transform and quicken us, preserving our souls for eternity. The earthen vessel will return to dust, but the transformed soul can be preserved (Ecclesiastes 12:6-7).
~~~
Fermentation has become such a passion of mine over the last few years. I remember a time when the mention of fermented foods left me scratching my head. I'm passionate about sharing this ancient, sacred knowledge, just like it was shared with me- freely. Like herbal medicine, it is empowering information that can change the way you live your life. I want to equip you with a couple recipes to get you started on this journey, for those of you who are interested. You can download those recipes below.
I hope this miniseries has provided you with a window into the depths of fermentation. I really enjoy passing this knowledge along. Thank you for tuning in, and cheers to your health trinity!
Love & blessings,