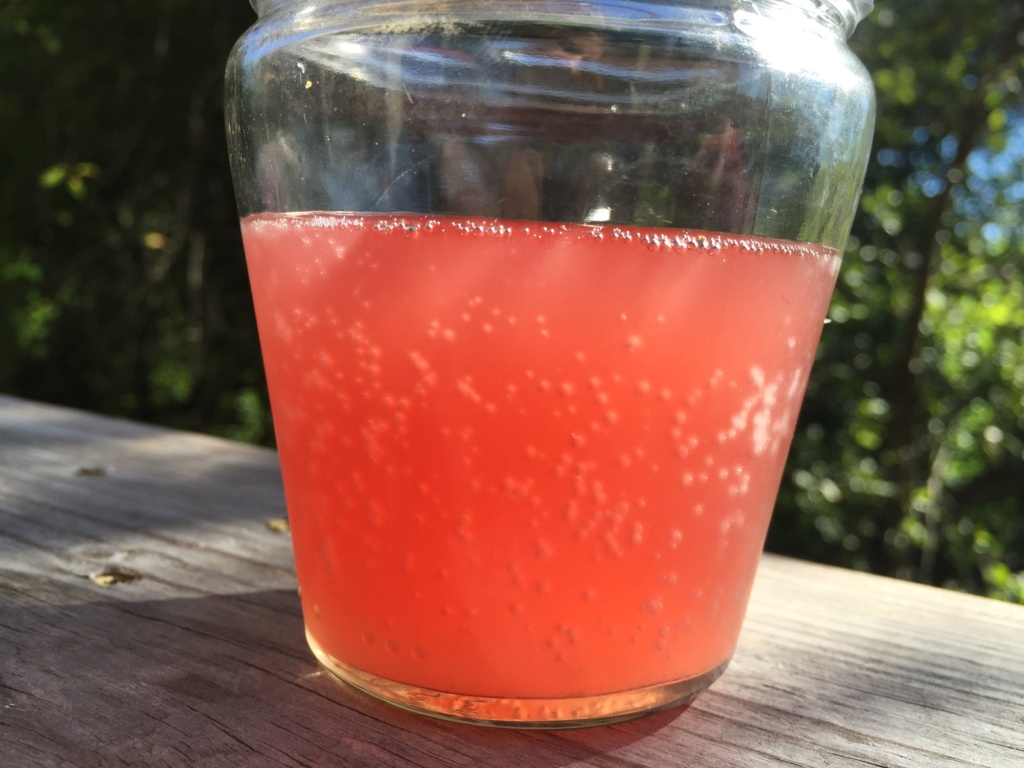 The third lesson I'll share is the lesson of the ginger bug. A ginger bug is a fizzy slurry of water, ginger, and sugar used to inoculate sweetened beverages (such as fruit juice or sweetened teas) and transform them into healthful, probiotic-rich sodas. I don't like to pick favorites amongst my kitchen pets, but… this is probably my favorite ferment.
Growing up, we were only allowed one can of "pop" on Friday nights, which was pizza/game night in my house. I was always very excited to go retrieve my can of Shasta cream soda.
The only other time we were allowed soda was ginger ale when we were sick. Little did I know then, this tradition actually has its roots in true healing. Real ginger ale, or ginger beer, is nothing more than strong ginger tea that has been sweetened and fermented. The sugars are eaten up in the process of fermentation leaving you with a fizzy, probiotic beverage- with the healing powers of ginger to boot! True ginger ale settles the stomach, boosts the immune system, and is extremely hydrating.
But you can use your ginger bug to make any type of soda you want. Most times, I will simply buy organic fruit juice and ferment that with my bug. Even pasteurized juices can become living foods again!
Bottom line: my ginger bug allows me to have healthful sodas on hand all the time, and I can drink them every day and feel great about it! How fun.
Now you know why I like my ginger bug so much, but what about the spiritual aspect?
A ginger bug needs to be fed a spoonful of sugar every day, or it will starve and die. I experienced this when I went away on a trip and came home to a flat bug. I attempted to revive it, but it had already gone too sour. I had to toss it and begin again. Now, I am diligent in feeding my ginger bug daily lest it get so weak it becomes useless and wasted.
This is much like my soul. It needs to be spiritually fed daily in order to thrive. If not, I get weaker and become vulnerable.
If you have been born again, and profess Jesus as Lord, his Holy Spirit dwells within you. As humans, we have this issue with the 'flesh.' If we don't spend daily time in prayer, meditating upon the Scriptures, and communing with God, we starve our souls and quench God's Holy Spirit. Just like the ginger bug, we start to lose vitality. In that state, we cannot expect to pour into others and inspire change.
On the contrary, if we are diligent in seeking God daily and tuning into his Holy Spirit, we become agents of change!
This precious treasure- this light and power that now shines within us- is held in perishable containers, that is, in our weak bodies. So everyone can see that our glorious power is from God and is not our own (2 Corinthians 4:7).
What will people see when we allow this light to shine?
But when the Holy Spirit controls our lives, he will produce this kind of fruit in us: love, joy, peace, patience, kindness, goodness, faithfulness, and self-control. Here, there is no conflict with the law (Galatians 5:22-23).
The fruit of the Spirit is so radically different than how we want to act in situations that don't serve us. As a mother, I have seen this play out in my own life with how I treat my kids. When I don't make time early in the morning to commune with God, these principles are quickly lost on me. I find myself losing my patience, reacting in anger, and feeling downright annoyed. Things I'd be ashamed for anyone else to see. But God sees. And my children see.
But when I do spend time with God at the start of my day… Who He is inspires change within me. His presence and words are near to my thoughts throughout the day, cultivating a desire within me to do things His way, which always feels right.
Think about someone you really admire. After spending the day with that person, you might find yourself inspired to change things about yourself because you want to be more like him/her or develop a quality that he/she has. Maybe it's a deep sense of peace, or consistent wise advice… Whatever the case, we all know how spending time in someone's presence can change us.
This is what God seeks to do in the lives of those who turn to Him. He can teach you radical principles that will transform the way you live your life. In turn, you can inspire others, inoculating them with God's life-giving, transforming presence.
Romans 12:2

Don't copy the behavior and customs of this world, but let God transform you into a new person by changing the way you think. Then you will know what God wants you to do, and you will know how good and pleasing and perfect his will really is.
Well, we are nearly at the end of this miniseries. I'll be wrapping things up in my next post. If you've become inspired to begin fermenting yourself, don't worry. I have a few surprises that will be revealed in the next post. See you next time.
Blessings,